It seems like only yesterday that Tim Heuer was  showing off Zero Gravity and the lovable antics of Lt. Bennett. It is hard to believe that was over 3 years ago. The Silverlight platform has grown up by leaps and bounds in that amount of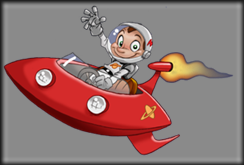 time, and with the looming release of Windows Phone 7, it seems only fitting that I get the opportunity to go back an take a look at the first game built in Silverlight with the intent of bringing it to the modern age. That's right, Zero Gravity is now available on WP7 as well.
What amazed me the most out of this whole experience is that the codebase written back in WPF/e was able to be recompiled with very little modification into the latest version of silverlight. Sure, there were a few namespace changes, but nothing in the code needed to structurally change. Even the old way of using a pre-loader (back before there was such a thing as a "splashScreenSource") runs without a hitch. In my next post, I will go into the changes that were necessary to get the game to work in WP7 but until then…
Just give me the source!
So without further adieu, I give you the source code for the original zero gravity
Please note that the Wp7 version you will need the Toolkit which can be found on codeplex.
If you just want to play the original game, you can check it out right over here!
Tags: Casual Games, Silverlight, WP7
16 Responses to "Zero Gravity: Conquering new frontiers"
Archives
Websites of interest
Tag Cloud